In recent years, 5v5 MOBA mobile games have occupied the top download list in the play store and app store for a long time. Among so many MOBA games, the most famous ones are mobile legends and arena of valor. Mobile Legends' downloads in the Play Store have exceeded 100 million, and Arena of Valor's downloads have also exceeded 10 million. For some players who have not yet started MOBA games, they will wonder what is the difference between these two games? Which one is better? Let us discuss it today.
First of all, in order to understand which game is better, we must first analyze what is their difference. We will analyze from different aspects, including developers, what country they are popular in, graphics, gameplay, character balance, and so on. Then, let's summarize which is better.
Developers
Mobile Legends is a game developed by Moontoon. This company is located in Shanghai, China. In March 2021, Moontoon was acquired by Tiktok's parent company, ByteDance. Moontoon is now a subsidiary of ByteDance.
The developer of Arena of Valor is TiMi Studio Group. This game was published by Tencent Games on October 14, 2016. TiMi Studio Group is headquartered in Shenzhen, China. It is a subsidiary of Tencent Games.
What country are they popular in?
Mobile Legends has a huge number of players in Malaysia, the Philippines, and Indonesia.
The majority of Arena of Valor players are located in Thailand, Chinese Taipei, and Vietnam.
Graphic
Mobile Legends' graphic is relatively less detailed than Arena of Valor. However, the Mobile Legend game can give quick feedback when casting skills, while AoV will have a slight delay. The following is a picture comparison of the two games.
Mobile Legends: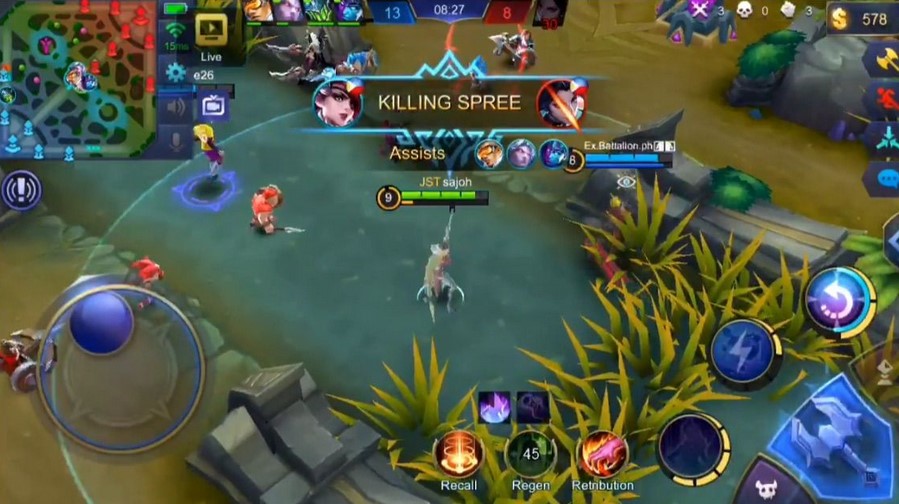 Arena of Valor:
Skin / Hero
So far, there are 109 heroes in Mobile Legends. Each hero has his own unique skin. Some of these skins are free, and some need to be purchased with diamonds.
As of April 2021, Arena of Valor has 108 heroes. Like MLBB, most heroes have more than one unique skin, some are free, some need to be purchased.
Gameplay
Role
The hero role of AoV is not as flexible as MLBB. For example, in AoV, mid-lane heroes are only suitable for mid-lane. In MLBB, the hero's role is more flexible, and the mid-lane hero can be used as a support to play.
Teamwork
In AoV, teamwork is more important. It cannot be difficult to win by relying solely on personal strength. Unlike AoV, players in MLBB can sometimes rely on their own power alone to kill five enemies with one hero.
Emblems / Arcana
In Mobile Legends, players only need to select Emblems with the default setup, and then add ability points.
In AoV, players can customize a unique ARCANA for each hero.
Character Balance
In MLBB, character balance is relatively poor. If the ADC is well-farmed, it can easily kill 2-3 tank heroes. In AoV, teamwork is more important. The above situation is almost impossible to happen in AoV.
Mobile Legends vs Arena of Valor: Which is better?
After reading the above analysis, we come back to the initial question, Mobile Legends vs Arena of Valor, which game is better? It is difficult for me to comment. I can only say that players who prefer teamwork will be more suitable for playing AoV. While players who prefer to rely on themselves will be more suitable for MLBB. But in terms of popularity, we can say that MLBB is better than AoV. This can be judged from the data on the number of downloads.
Before the end sharing, let compare these 2 games again with their gameplay video:
Mobile Legends Gameplay:
 Arena of Valor Gameplay:
If you like the information we provided, don't forget to follow our Website for more game tips and guides. Also, follow OPGAMER Facebook page for the latest game promotion, game release, etc.
Need Mobile Legends Diamonds at a cheaper price? Buy from our store now!