Mobile legends should be familiar to most mobile game players. Although 5 years have passed, the popularity of this famous 5v5 Moba game does not seem to decrease. I believe most players know that to play this game, Internet speed accounts for a very important factor. In addition, slow Internet speed also seriously affects the win rate of the game.
However, there are still many places in the world with the imperfect network coverage. In some areas, the ability to even open the game is also a problem. So today, I will share how to play Mobile Legends in offline mode. Not only that, in this article, we will also share 5 offline games similar to mobile legends.
This player brings many benefits, for example, when the internet speed is slow, the player can practice game skills alone. Moreover, for players in areas with relatively slow internet speeds, offline mode allows them to experience the game better without the slightest delay.
How to play Mobile Legends offline?
The method we want to share is very simple. We made it into a step-by-step guide. Please refer to the following steps:
1. First, connect to the Internet, and then log in to the Mobile Legends game.
2. Enter Custom Mode, and then select one of the modes.
3. Choose the hero you want to play.
4. After selecting the hero, turn off the network connection and enter the offline mode.
5 Mobile Legends alternative offline games
At the same time, some players want to know if there is an offline game similar to mobile legends. So we have also shared some more information. We will share 5 Mobile Legends offline alternative games. We have made it into a list and will briefly introduce the game.
1. Legendary Heroes MOBA Offline-Strategy RPG
This game has been launched on Google and has a good rating of 4.1 stars. In this game, like most MOBA games, the hero has 4 unique special skills (abilities). What surprised me is that this free game has 40 maps. Players who want to try it can go to the google play store and search for "Legendary Heroes".
2. Heroes Strike Offline-MOBA & Battle Royale

Heroes Strike not only allows players to experience the MOBA mode in the game, but he also has battle royale, deathmatch, and other modes. This game has been downloaded more than 5 million times on the google play store. Players can go to the google play store and search for "Heroes Strike Offline" to download this game.
3. Fight for freedom(MOBA for freedom)
This is a Chinese Moba game. The game interface is similar to the famous computer MOBA game, Dota. This game has been around for many years, but it has not been launched on the google play store. Players who want to download can search for "Fight for freedom apk" or "MOBA for freedom apk" on Google
4. Moba Mugen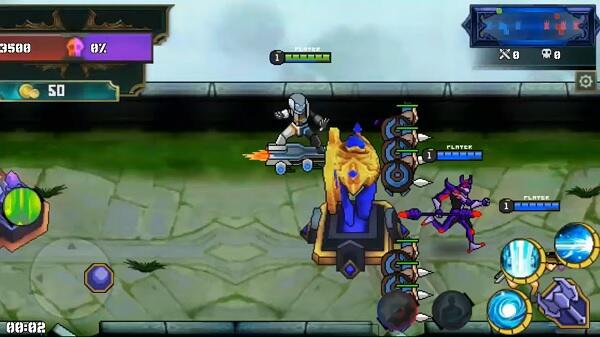 The similarity between Moba Mugen and Mobile Legends is very high. However, Moba Mugen is only an 8 bits version of mobile legends. This game has not been launched on google play either. Players who want to try it out can search for "Moba Mugen apk" on Google.
5. Steam World

This is also a Chinese Moba game. Due to the incomplete development, this game has only 7 heroes for the time being and only has a man-machine mode. Players who want to try it out can download it from this link.
Gameplay Video
Let's take a look at the gameplay of these games.
If you like the information we provided, don't forget to follow our Website for more game tips and guides. Also, follow OPGAMER Facebook page for the latest game promotion, game release, etc.
Need Mobile Legends Diamonds at a cheaper price? Buy from our store now!